Computerized Design

Assured Quality

Quicker Delivery

Economical Price
Tejaswini Industries
SINCE 2010
We take pleasure in introducing ourselves as one of the leading manufacturer of TRANSFORMERS for over 10 years with special experience in design & manufacturing of Power, Distribution, Air cooled, Furnace, Earthing, Converter Duty, High Frequency, Rectifier, Traction, Isolation, Variable frequency drive, Generator transformers.
It is our commitment to provide you customise transformer as per your requirement with world class quality & economical price.
About Tejaswini Industries
---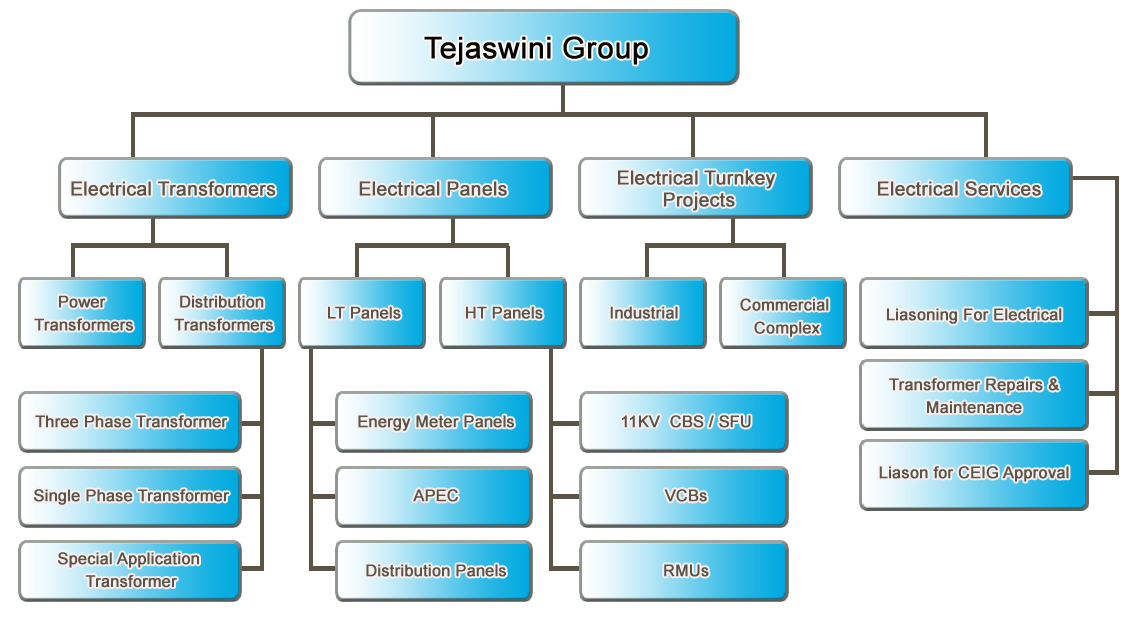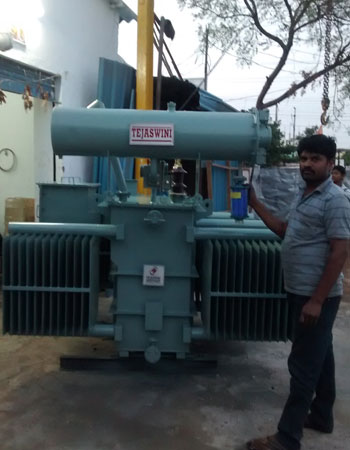 Major contributing factors to our growth and success have been the hands-on deck. Our employees put in their best for every unit produced. We currently are operating with a strong workforce that believes in upholding the high standards of quality products set forth by the company while being at their efficient best.
At Tejaswini Transformers, we ensure that we do what it takes to give the customer the exact customization they are looking for. The five major departments are R&D, Design, Quality Control, Assembly (Winding Section, Core Building, Core Coil Assembly, Vacuum Drying, Tanking, Painting sections) and Testing.
At Tejaswini, one of our main beliefs is that 'Quality is never an accident; it is always the result of high intention, sincere effort, intelligent direction and skillful execution. It represents the wise choice of many alternatives.' And in order to make sure our quality reaches our customers; we have a comprehensive sales and service network that operates in markets.
Unit I
We have fully equipped winding machines (Both CNC and Manual) with capabilities to handle copper and aluminium foils, rectangular, Square and round wires. We also have facilities to operate both vacuum and dip varnish process with curing ovens to assure controlled curing over the full range of product and process. We also have machineries for lamination cutting and punching to make up for any shortfall. We have two fully equipped digital testing systems which are regularly calibrated for accurate measurements.
Unit II fabrication
We have fully equipped fabrication unit having capabilities to handle fabrication of good quality transformer tanks and panels. After the fabrication every transformer tank is tested with air pressure so as to take care of oil leakage.
Unit 3
We had established a well-equipped repairing centre for the Transformers, both power and Distribution Transformers at Rajanna, Sircilla District.
Transformers are manufactured from imported cold rolled grain oriented M3H/M4H Grade Lamination duly metered & annealed with low Flux Density
Transposed Duplex Winding for copper conductors with Double/Triple covered Munjasco insulation paper with extra covering.
Saving of energy which occurs through out the operation life-time for the transformer.
Low Magnetizing Current to save no-load electricity bills & capacitors for Transformer.
Higher no-load power factor of the transformer.
Less temperature rise of core.
Transformers are designed for high impedance i.e. up to 10% or even more to with stand heavy load and short circuit, as per your specifications.
Inherent overloading capacity due to (a) Low Loss, more size and more quantity of oil. (b) High power factor and less no-load current.
All fittings, Conservator with detachable cover, Inspection cover, Main Lid etc. fitted such that, without disturbing HV & LV connecting cables, easy maintenance can be done in absolutely no time at site.
Enough broader Radiators are provided to limit temperature of oil. These Radiators are manufactured as per German Design from 1.15 mm thick MS CRCA Sheets.